Best Reviewed Lunch Menu Items
Check out our Chef's creations here. We us the freshest local ingredients around Edmonton. Our menu entices many different palates for you to enjoy.

House made pork dumplings served with our signature chili sauce
 Sea salt & cracked black pepper wings, served with veggies and ranch
Pan-fried in extra virgin olive oil with fine Grana Padano cheese, goat cheese vinaigrette & crispy lotus root
Crispy macaroni & cheese balls served with creamy marinara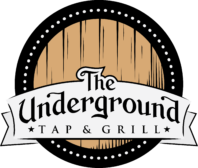 GRAPE TOMATO & BASIL BRUDSCHETTA  
With fresh baked sour dough bread.
Grilled bacon-wrapped avocados served with our signature chipotle lime aioli
Fresh jalapeños, tomato & onions on house-made nachos topped with cheddar & mozzarella. Served with salsa & sour cream  Guacamole
Duck confit, hand-cut fries & cheese curds topped with duck gravy
Classic Poutine $11
Vegetarian Option $12
Butter Chicken $13
Asian Pulled Pork   $5
Spicy Beef $5
Jerk Chicken $5
Chorizo $5
FEATURE SOUP OR VEGAN SOUP
Kale, romaine, croutons, vegan parmesan dressing.
House-made pickled beets, wild arugula, roasted butternut squash, goat's cheese & toasted almonds with white wine balsamic
Grilled Chicken $5
Steak (Grilled to Perfection) $7
Grilled Tofu $4
Avocado $3
Garlic Bread $2
Crispy Peri-Peri Chicken $5
Mixed greens, avocado, grilled red onions, cherry tomatoes, sliced radishes, hemp seeds & chimichurri dressing.
Kalamata olives, cucumber, tomato, chickpeas, artichoke, fetta & crisp romaine.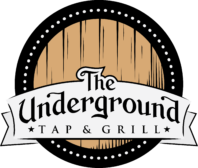 Fresh kale, grape tomatoes, pickled red cabbage, wild rice & amazing dill sauce
Chicken breast, bamboo shoots, black wood mushrooms, green beans, peppers, jasmine rice, served with a rich green curry sauce
16 Vegan pesto, toasted pine nuts, fresh basil, shaved parmesan cheese, served with garlic toast.
Vegan Version Available – Add on Chicken $5
Homemade chicken tenders and hand-cut fries with our tomato chili sauce.
Black sesame crusted Ahi Tuna, mixed greens, cucumber, carrot, sous vide egg, sushi rice & spicy sesame shoyu
.
Beer-battered wild cod filets, hand-cut fries, coleslaw, lemon slices & tartar sauce
7 oz AAA Alberta top sirloin pan fried in thyme butter, served with hand cut fries & garlic toast.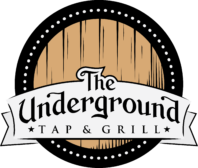 Chicken tenders, salad mix, aged cheddar, chipotle ranch, tomatoes & bacon
UGBD
(UNDERGROUND BEEF DIP)
12 Sliced 8-hour slow cooked Alberta beef striploin, sautéed onions& provolone, on a ciabatta bun with a side of pan jus
Gorgonzola blue cheese, local raised lean bison, caramelized onions, served with lettuce, tomato, onions & pickle on a homemade Brioche. 
Bacon $2
2 Cheddar Cheese $2
2 Sautéed Mushroom $2
Avocado $3
Hand-cut Fries $5
Sweet Potato Fries $7
Garden Salad $4
Caesar Salad $5
Daily Soup $5
Sub Gluten Free Bun $2
Bourbon barbeque chicken, bacon, red onions, tomato, arugula, aged cheddar & mayo on ciabatta bun

.
BACON AVOCADO GRILLED CHEESE  
Aged cheddar, crispy bacon, avocado & bacon jam on light rye bread
Hand pressed AAA top sirloin burger, served with lettuce, tomato, onion & pickle on a homemade Brioche.